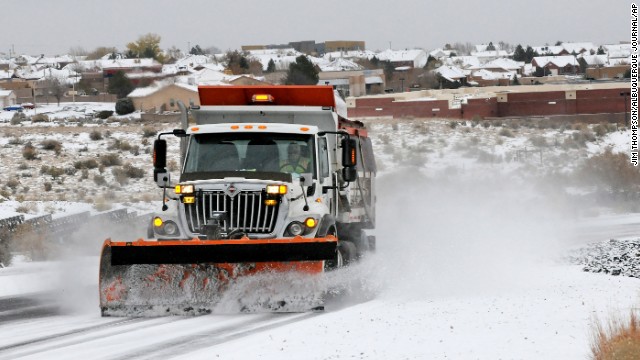 A plow and sanding truck heads up Paseo del Norte in Albuquerque, New Mexico, on Sunday, November 24. A deadly winter storm that began in Southern California and stretches to Texas threatens to wreck Thanksgiving week travel plans all the way to the Atlantic.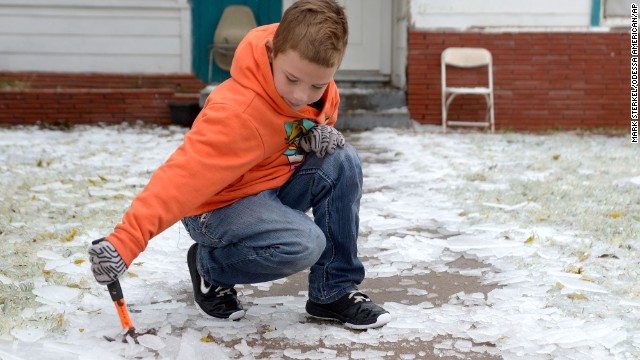 Phillip Miller, 8, uses a hammer to break up the ice on the walkway in front of his family's home in Odessa, Texas, on November 24.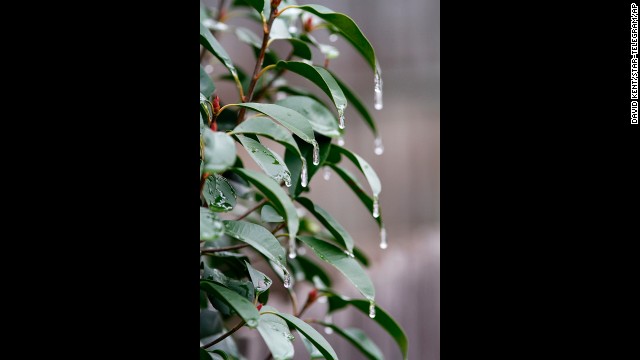 Icicles form on a bush after the first round of winter weather moved through Tarrant County, Texas, on November 24.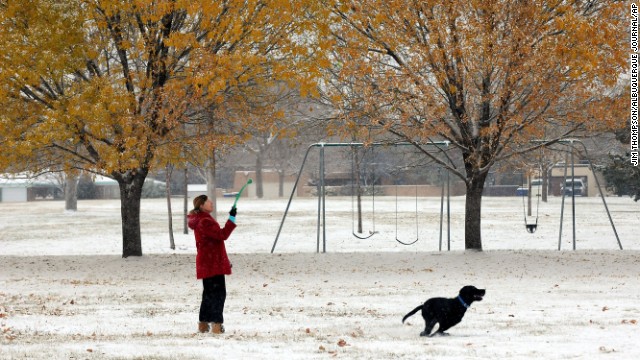 Valerie Thompson tosses a ball for her dog, Gus, on November 24 at Stardust Skies Park in Albuquerque, New Mexico.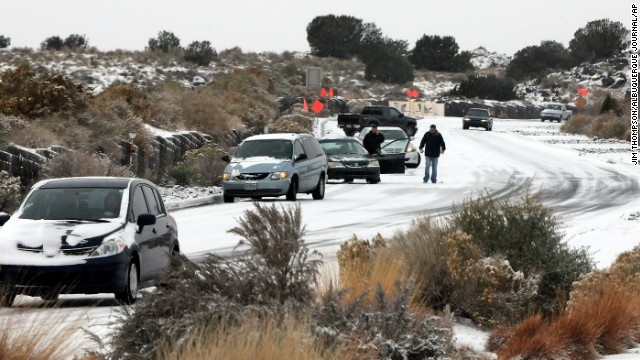 Cars slide on Paseo del Norte in Albuquerque on November 24. The winter weather made driving difficult.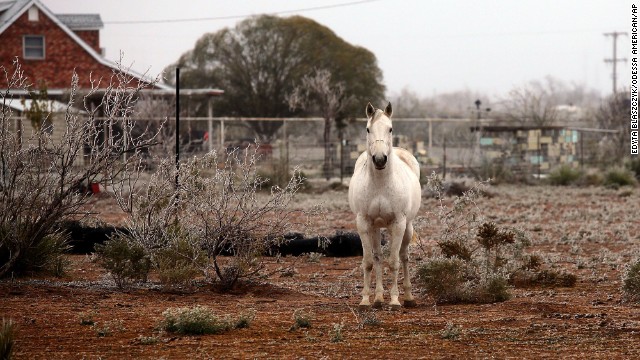 A white horse roams an icy patch of land in the morning on Saturday, November 23, in Odessa, Texas.
Sleet and freezing rain will blanket parts of the Southern Plains and Rockies
The storm will make a turn toward the Northeast this week
At least six people have died in weather-related traffic crashes
More than 300 flights are canceled at Dallas-Fort Worth International Airport
Editor's note: Are you in the grips of the wintery storm sweeping across the country? Please share your videos, pictures and stories at iReport.
(CNN) — The wicked wintry weather that pummeled the West Coast is now barreling across the country, threatening to ruin millions of holiday travel plans just before Thanksgiving.
More than 300 flights have already been canceled in the Dallas-Fort Worth area — not exactly a bastion for snow storms. Sleet and freezing rain will keep blanketing parts of the Southern Plains and Southern Rockies on Monday.
"It's going to be so close to freezing, that's when we're anticipating it to be bad," Sgt. Lonny Haschel of the Texas Department of Public Safety said.
And after the storm deluges parts of the South with rain Monday evening, it'll start zeroing in on the Northeast, the National Weather Service said. And that could spell more travel nightmares.
It's not just the bad timing that has travelers riled up. In many of the places, this kind of weather isn't supposed to happen.
"This is not Texas weather, man," driver Ron Taylor told CNN affiliate KTVT. "This is Alaska, or Idaho."
Even parts of Lubbock, known for its warmth and flatness, turned into a snowboarding park as several inches of snow blanketed the western Texas city.
How cold is cold?
An arctic air mass will likely keep temperatures 15 to 20 degrees below normal along the East Coast through Thursday. Even if the system fails to deliver heavy snow, fierce winds could stymie air travel, forecasters said.
Airlines flying in and out of Dallas/Fort Worth International Airport "pre-canceled about 300 departures to reduce the number of stranded travelers" Sunday in anticipation of the harsh weather, the airport's official Twitter account said. And 10% of flights at Oklahoma City's Will Rogers World Airport were also canceled due to the weather Sunday.
Then there's the snow. New Mexico could see up to 8 inches of snow accumulating through Monday, forecasters said.
Deadly road conditions
The early winter storm has already contributed to the deaths of at least six people in traffic crashes.
Three people died in a pileup on icy Interstate 40 in northwest Texas late Friday, Texas State Trooper Chris Ray said. One of those killed was a person who got out of his car to help, but got struck. And at least 20 people were hospitalized from collisions within three miles of the fatal pileup, the Oldham County sheriff said.
Two people died in New Mexico on dangerous road conditions. A 4-year-old girl who was not properly restrained was killed Friday when the car she was riding in slid off icy U.S. Highway 70, the state's Department of Public Safety said. On Saturday, a woman in her 50s died when the pickup truck that she was riding in rear-ended a semi-truck during heavy traffic near Gallup, New Mexico, state police said.
And in Yuba County, California, a 52-year-old in a car died when a tree fell on top of the vehicle Thursday, the county sheriff's office said.
Massive rainfall, too
Heavy rain is expected to fall from Texas to Georgia on Monday and to the Carolinas on Monday night, with some sleet and snow mixed in for northern parts of that swath. The heaviest rain is expected across parts of Mississippi, Alabama, Georgia, Florida and South Carolina.
By Tuesday, the rain will reach the mid-Atlantic states and parts of the Northeast. Freezing rain could develop in the southern and central Appalachians.
Fewer people traveling for Thanksgiving
CNN's Joe Sutton, Karen Maginnis, Adam Shivers and Janet DiGiacomo contributed to this report.

Top Stories – Google News