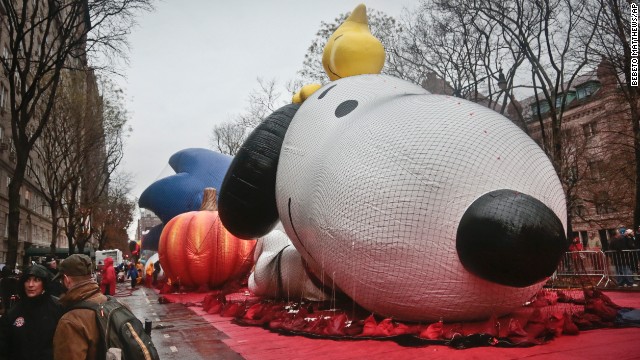 The Snoopy balloon for the Macy's Parade is partially inflated on Wednesday, November 27, in New York. High winds may keep the balloons on the ground during Thursday's Macy's Thanksgiving parade. A colossal storm system that began in California is complicating Thanksgiving travel plans all the way to the Atlantic, causing many transportation delays.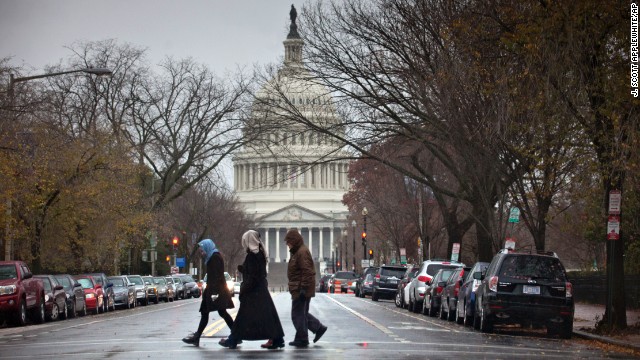 Wet, wintry weather blows into Washington on November 27.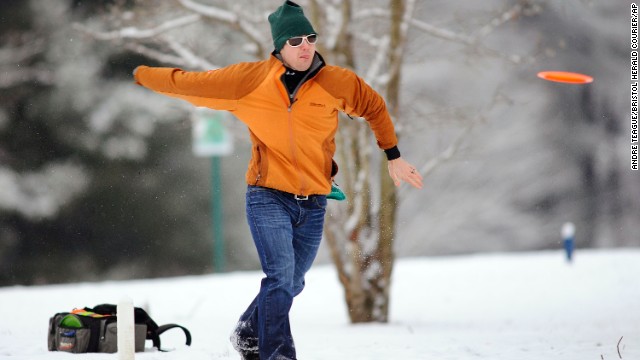 Nick Hitchcock braves the cold air and snow to play a round of DiscGolf in Bristol, Tennessee, on November 27.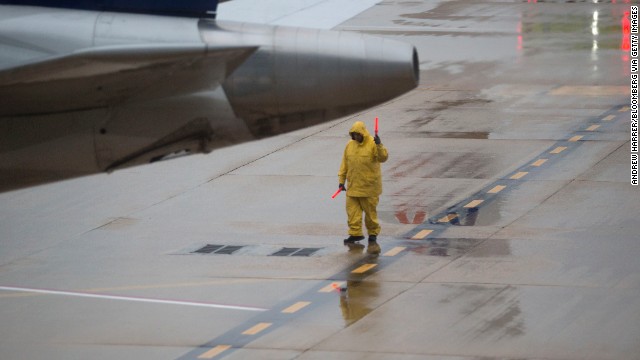 An employee signals a plane out of the gate at Ronald Reagan National Airport outside of Washington on Tuesday, November 26.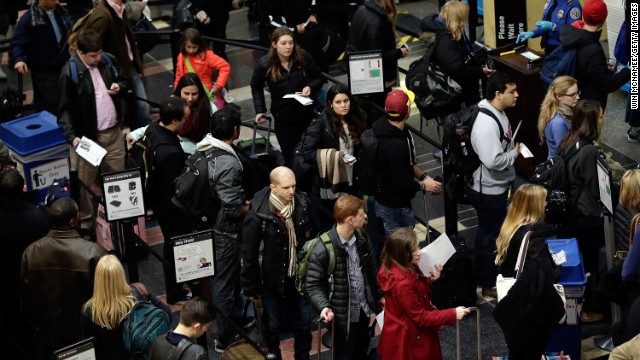 Travelers wait in security lines at Reagan National Airport on November 26.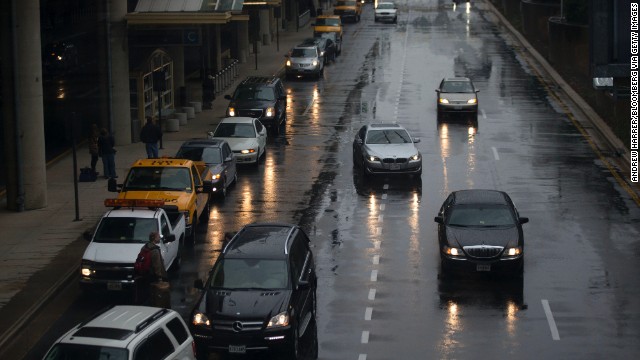 Vehicles pick up passengers in heavy rain at Reagan National Airport on November 26.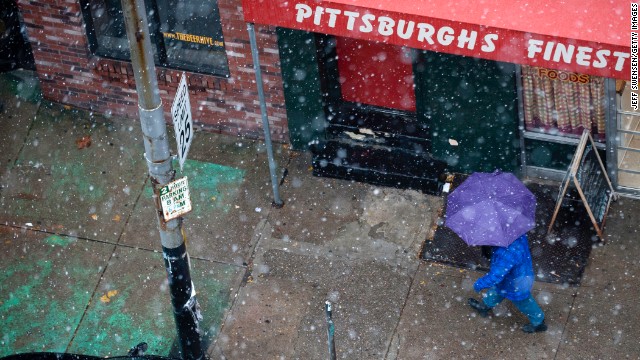 A pedestrian walks through snow showers along Penn Ave in Pittsburgh on November 26.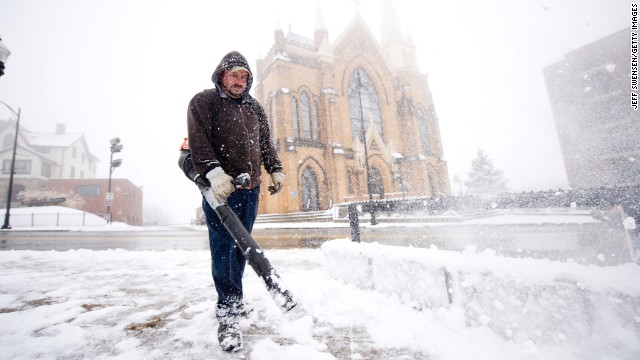 Mark Swigart uses a leaf blower to remove snow from the sidewalks November 26 in Pittsburgh.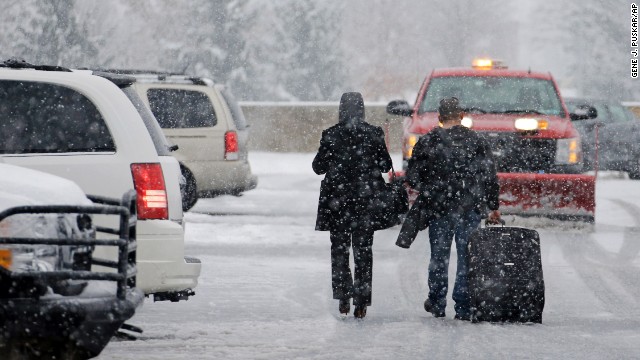 Holiday travelers make their way to their car on November 26 after arriving at Pittsburgh International Airport.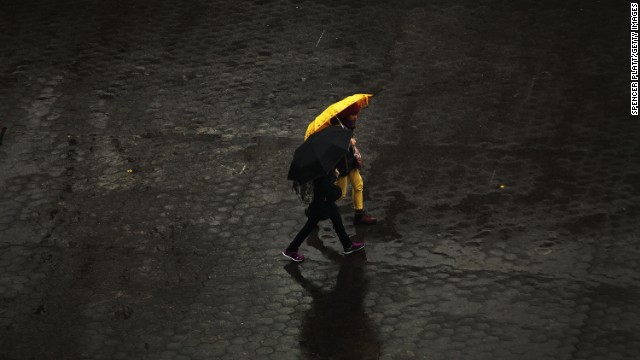 People walk in the rain through Union Square in Manhattan on November 26. New York was bracing for severe weather as the storm made its way east.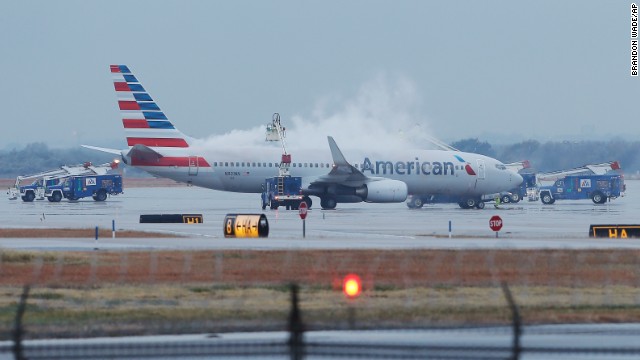 Employees at Dallas-Fort Worth International Airport de-ice a plane before departure on Monday, November 25.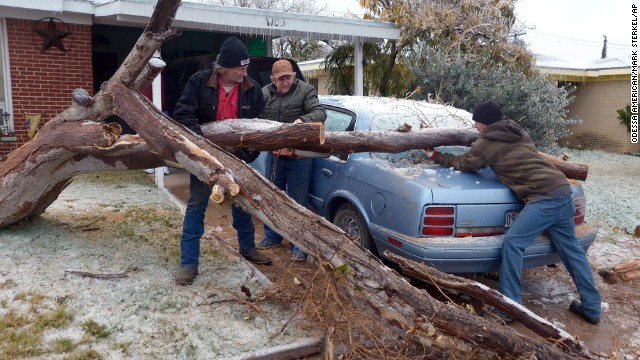 A fallen tree is removed from a car in Odessa, Texas, on November 25.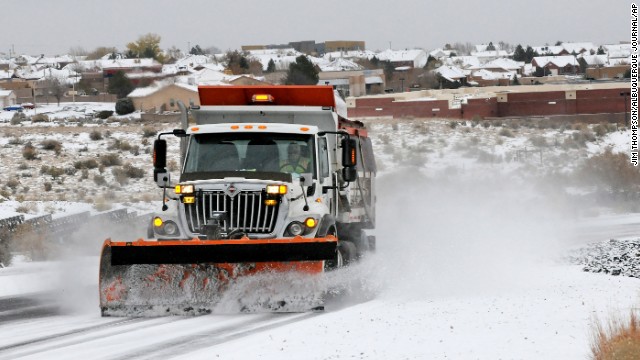 A plow and sanding truck heads up Paseo del Norte in Albuquerque, New Mexico, on Sunday, November 24.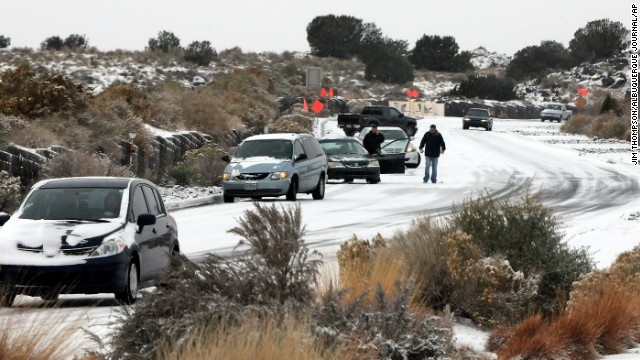 Cars slide on Paseo del Norte in Albuquerque on November 24.
Fate of Macy's Thanksgiving Day Parade balloons still up in the air
Roads in parts of the Northeast are still slick
Trains and planes stay on track
Black Friday becomes Black Thursday
(CNN) — It's Thanksgiving.
You got where you needed to go. Now, it's time to get what you need to get.
First turkey, then holiday gifts.
Let's start with the weather. It was a bust — but in a good way.
Except for a few areas where heavy snow fell, this week's wintry storm system was more of a nuisance than anything to most Americans.
Early reports had us thinking flights would be stranded and roads too slick to travel on, especially in the Northeast.
Not quite.
Cold temperatures and blustery winds are the leftovers from this storm.
But they're leftovers that could spoil the Macy's Thanksgiving Day Parade.
The show must go on
Make no mistake, the parade will go on, organizers say. The question is: Will the event's trademark giant balloons grace the streets of Manhattan?
Let's just say that things are up in the air.
The 16 big balloons will be grounded if sustained winds reach 23 mph or gusts exceed 34 mph.
The overnight forecast says winds will be breezy, out of the west around 22 mph, with gusts as high as 34 mph. Winds are supposed to calm during the day, likely in the 11 to 18 mph range. A decision will be made at 9 a.m. ET.
"We came all the way from Puerto Rico to see the parade, so it will be a disappointment if we can't see the balloons," said Jose Ramirez, who was in New York with his family.
Parade officials do have good reason for being cautious.
In 1997, a woman spent more than three weeks in a coma after the Cat in the Hat balloon — tossed by heavy winds — struck a pole that hit her. In 2005, two other people were hurt in a similar incident involving the M&Ms balloon.
Wind gauges will line the route and a police sergeant has been assigned to each balloon to minimize any danger.
Michellian Findley says her family will be disappointed if the balloons don't fly, but won't consider the holiday ruined.
"The balloons aren't about Thanksgiving," she said. "It's about fellowship and family, and just being thankful."
Faring well
Planes and trains fared well as the storm slipped to the north. No major delays were reported.
That was good news for people like Latasha Abney, who joined the more than 43 million Americans expected by AAA to travel over the Thanksgiving holiday weekend.
Abney said Wednesday that she arrived more than two hours early at Washington's Reagan National Airport to catch a flight to New York's JFK on Wednesday.
"Security was a breeze," she said. "I walked right up, the TSA agent checked my info … Happy Thanksgiving!!!!"
Brian Good said he, too, was expecting a horrible trip when he departed New York for Newark to get a flight to San Diego.
"Instead the roads were dead," he said Wednesday. "It's warm outside and it stopped raining. No lines at the airport and flight is on time. Wish the forecasters were wrong all the time :)"
#ATL24: A day in the life of the world's busiest airport
Amtrak reported no major delays systemwide. Using the weather as a marketing tool, the nation's rail system was adding seats on some routes.
"Rail travel remains one of the most reliable and comfortable transportation options, especially in weather conditions that negatively impact other modes," Amtrak said.
5 healthy eating tips for holiday travelers
Deadly roads
Although planes were in the air and trains were on track, automobiles were having a tougher time on the northern fringes of the nation.
Up to a foot of snow fell in parts of Pennsylvania, and it was falling from upstate New York into Canada, where more than a foot was possible. Snow also continued to fly in the central Appalachians and around the Great Lakes as cold air moved in and produced lake-effect snows.
Road conditions were not great in much of the Northeast.
The National Highway Traffic Safety Administration said that 416 motorists died during Thanksgiving weekend last year, that 60% of the dead had not been wearing seat belts and that 42% of the accidents involved a drunken driver.
Over the last 12 people died, most of them in car crashes, as the storm system iced roads from the Rockies to Texas and Oklahoma. More than 100 vehicles ended up in wrecks.
Storm prompts airlines to relax travel policies
Black Friday, or is that Thursday?
Travel? Check. Turkey? Check. Now it's time to shop.
All the buzz is about Black Friday, at least for the serious shoppers.
But it's a bit of a misnomer. More and more, Black Friday is becoming Black Thursday.
Kmart is the early bird with a 6 a.m. opening. Other retailers like Toys R Us, Walmart, Macy's, Kohl's, J.C. Penney and Sears wait until Thursday evening to open their doors.
Electronics are again popular "door-buster" items. Looks for specials on TVs, Kindles, iPads and other tablets.
Gobble, gobble and Happy Thanksgiving.
CNN's Jason Carroll, Ben Brumfield, Dave Hennen, Aaron Cooper, Alexandra Field, Shannon Travis and Greg Botelho contributed to this report.

Top Stories – Google News