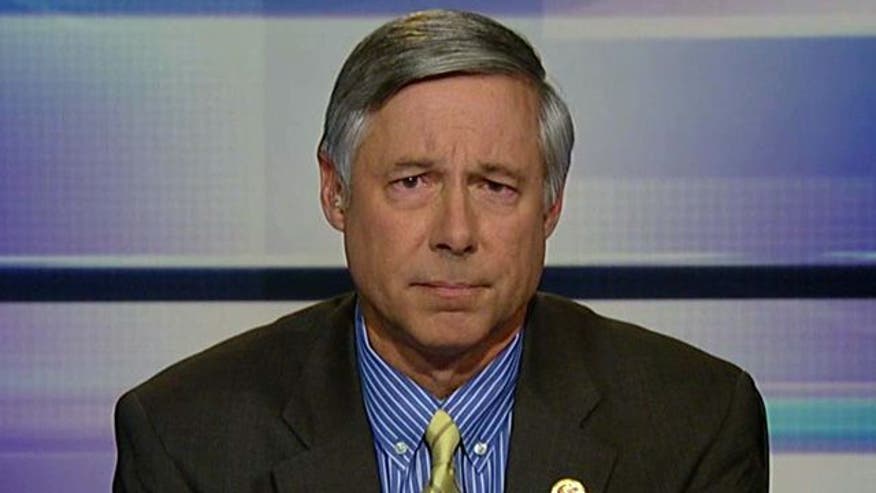 House Republicans are charging ahead with a vote Friday afternoon on a bill meant to reverse, or at least halt, the wave of insurance plan cancellations, after claiming that President Obama's unilateral attempt to do that might not be legal. 
The president on Thursday tried to address the issue by decree, announcing that he's allowing insurance companies to sell policies that would otherwise be out of compliance with the Affordable Care Act for another year. The change was meant to address the concerns of millions of Americans who have lost their current insurance plans because they didn't meet the minimum standards under the law. 
But House Speaker John Boehner said he's "highly skeptical that they can do this administratively." 
The House will vote later Friday on a bill from Rep. Fred Upton, R-Mich., that would extend old policies for another year — not just for those who lost them, but for anyone who might want to buy them. 
Upton told Fox News that his bill is a "better answer — because who knows how his executive order is going to be tested?" 
Upton complained Thursday that Obama was "bypassing Congress" with his administrative fix. Aside from the legal questions surrounding the unilateral change, Upton voiced concern that Obama could simply reverse course a few weeks or months down the road. 
A vote is expected in the early afternoon on Friday. It is likely to pass, considering Republicans hold the majority in the House, but the Obama administration risks losing Democrats on the vote as well. 
The White House has already vowed to veto the bill, suggesting it goes too far. 
A newly emerging Democratic alternative, which faces certain House rejection, would let insurers continue coverage deemed substandard under the law for many existing customers, but only through 2014. It would also require insurance companies to tell people they could purchase other policies on federal or state-run insurance exchanges that might be better and cost less. 
But either "fix" — the administrative change from Obama, or either House bill — is bound to cause problems for the insurance industry and state-level commissioners. 
In the wake of Obama's announcement on Thursday, they complained that they were unsure how to implement the change, if at all, considering cancellation notices have already gone out and rates have already been set for 2014 in many states. 
Obama plans to meet with insurance industry executives Friday afternoon. 
"What we want to do is to be able to say to these folks, you know what, the Affordable Care Act is not going to be the reason why insurers have to cancel your plan," Obama said of the millions who have received cancellation notices. 
Until the president made his announcement, the administration had been assuming that individuals currently covered by plans marked for cancellation would switch to alternatives offered in government-established exchanges. If so, they would be joining millions of others who have lacked insurance in the past. 
The people with current individual coverage are a known risk to insurers. But those without generally have had less access to medical services and are most costly to care for. The theory has been that moving people with current coverage into the new markets would help stabilize premiums. 
Only last week, Health and Human Services Secretary Kathleen Sebelius told a Senate panel she doubted that retroactively permitting insurers to sell canceled policies after all "can work very well since companies are now in the market with an array of new plans. Many have actually added consumer protections in the last 3 1/2 years." 
The Associated Press contributed to this report.
FOX NEWS FIRST NEWSLETTER
Daily must-read stories from the biggest name in politics