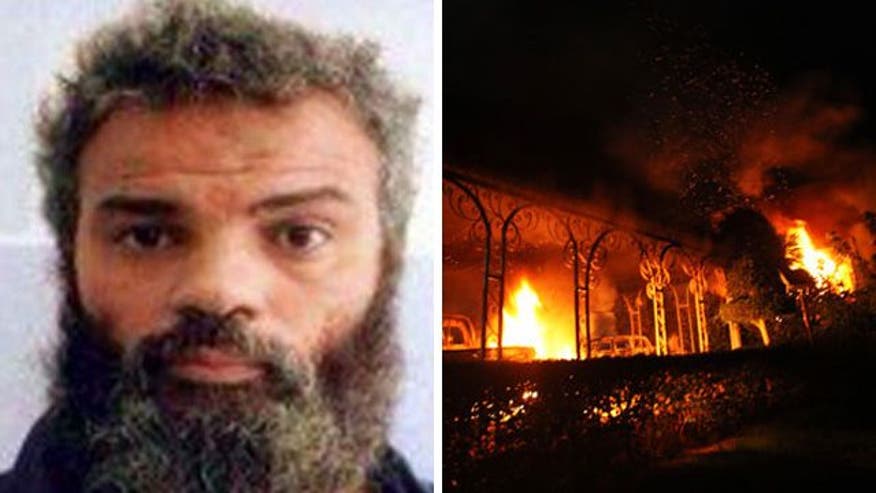 WASHINGTON –  Ahmed Abu Khatallah, the Libyan militant charged in the 2012 Benghazi attacks, will face a federal judge Saturday afternoon for an initial court appearance, authorities confirmed to Fox News. 
At that time, the government is expected to outline the charges against him.
Khatallah is being held at a federal courthouse in D.C. amid tight security, Department of Justice spokesman William Miller said.
He was flown to Washington by helicopter shortly after sunrise from a navy warship, where he had been held since his capture nearly two weeks ago.
Khatallah is accused of being involved in the Sept. 11, 2012 attack in Libya that led to the deaths of former U.S. Ambassador Chris Stevens, information officer Sean Smith, and former navy SEALs Tyrone Woods and Glen Doherty.
Stevens, 52, was the first U.S. ambassador to be killed in the line of duty since 1979.
Special Operations Forces captured Khatallah during a nighttime raid in Libya June 15-16, marking the first breakthrough in the investigation of the Benghazi attacks.
A newly unsealed criminal complaint accuses Khatallah of killing a person during an attack on a federal facility, a crime punishable by death; providing federal support to terrorists resulting in death; and using a firearm in a crime of violence.
U.S. authorities have said they are looking to identify and capture additional co-conspirators.
Khatallah, a prominent figure in Benghazi's circles of extremists who was popular among young radicals, acknowledged in an interview with The Associated Press in January that he was present during the storming of the U.S. mission in Benghazi. But he denied involvement in the attack, saying he was trying to organize a rescue of trapped people.
Prosecuting Khatallah will be a test of the Obama administration's commitment to try suspected terrorists in the American criminal justice system even as Republicans in Congress call for Khatallah and others to be held at the U.S. detention facility in Guantanamo Bay, Cuba.
Khatallah is one of just a few cases in which the administration has captured a suspected terrorist overseas and interrogated him for intelligence purposes before bringing him to federal court to face charges.
Fox News' Catherine Herridge and The Associated Press contributed to this report.