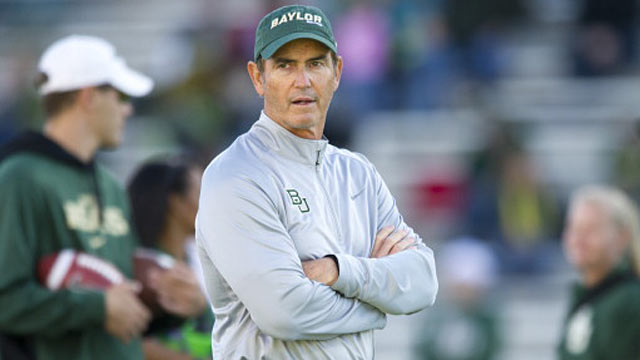 Art Briles' impressive record includes a stunning 11 wins this season at Baylor. (Getty Images)
I'd love to see Art Briles in the NFL, but not in Washington. Not with the Redskins. No matter how much sense that might make, what with Briles having coached Robert Griffin III at Baylor, and what with RG3 still serving as the Redskins' rudderless franchise quarterback.
What's my problem with Briles in Washington?
One, he could go there and lose. Hey, everybody else has. Steve Spurrier did. Marty Schottenheimer. Jim Zorn. Joe Gibbs went there for an encore and lost. So did Mike Shanahan. If Briles goes there, he's going there to lose — and I like him too much to watch it happen. Or …
He goes there and wins — which means Dan Snyder wins.
Rock, meet hard place.
More coaching newsLatest news and rumors
Seriously, does anybody like Daniel Snyder? Anybody? I'm asking Redskins fans as well, because I'm pretty sure you guys don't like your owner any more than the rest of us. Hell, being Redskins fans and monitoring the team closely, you must know the guy — and therefore dislike him — more than I do. And I dislike him plenty. There's enough there for a column another day, or a column every day for the next 10 months, but suffice it to say Daniel Snyder is dislikeable and most people get it, whether they root for the Redskins or not.
So imagine how troublesome, how terrifying, I find it that Snyder is on the prowl for a coach — and what do you know? Art Briles makes perfect sense, given the RG3 connection and Snyder's tendency to gravitate toward shiny objects like Schottenheimer, Spurrier and Shanahan. Snyder doesn't interview coaches so much as he checks them out on Google. If the coach in question has a certain number of Google hits, Snyder wants him. Doesn't matter if he's a burnout (Schottenheimer), lazy college genius (Spurrier) or a figment of John Elway's imagination (Shanahan). Snyder traffics in shiny objects, and Art Briles is sparkling.
Briles is a neat guy, an inspiring guy, a self-made winner who quarterbacked his dad's high school team to the state championship game in Texas, played collegiately at Houston and became a high school head coach at age 28. His first two teams went 27-1-1, and his second team reached the state semifinals, and soon Briles was one of the best high school coaches in the state, and then a college assistant, and then he was taking over two downtrodden programs — first Houston, then Baylor — and winning at both.
Briles doesn't get the due given to other recent NCAA offensive savants like Chip Kelly and Kevin Sumlin and Gus Malzahn, but that's because he's at Baylor and we're stupid. Winning eight games at Baylor is like winning 10 at Oregon or Texas A&M or Auburn. Winning 11 games at Baylor? That's ridiculous. But that's what Briles did this past season.
Briles is a winner, and while he didn't do it all by himself — nobody does it all by themselves — he came about as close as a person can come. If he were running the Redskins' offense, he'd be the antithesis of the last guy who called plays there, Kyle Shanahan, who had to remove the silver coaching spoon from his mouth to make himself understood.
Briles is a winner, and I don't want to see him go to the NFL and lose, which is what I suspect would happen in Washington D.C. Nothing against Briles, but I'm not sure the Redskins can win with Daniel Snyder anywhere near the team. He can still own it, still write checks, but if he has any influence on the football product at all, well, that's too much influence. The margin between winning and losing in the NFL is small, and Daniel Snyder is a big bag of hot air blowing in the wrong direction. Look at his coaching hires. Look at his general manager, Bruce Allen, whom Snyder probably hired because he was shiny the son of legendary former Redskins coach George Allen.
Snyder fired Mike Shanahan on Monday, but didn't get rid of Bruce Allen. This is what Briles would be walking into, a snake pit where the owner wants to be the quarterback's buddy and hangs onto his legacy hire at GM and in general doesn't have any idea that he doesn't have any idea what he's doing.
Briles would lose there, or worse — he'd win. He'd make a winner of Daniel Snyder by going to the Redskins and bringing with him the offensive creativity and outside-the-box thinking of Spurrier, the hunger of Shanahan and the ruthless work ethic unique to Briles himself — who willed Baylor toward the top of the Big 12 and now oversees a program that just gave him a 10-year contract extension worth more than $ 40 million and in eight months will open a new, $ 260 million stadium.
The extension, the stadium, the state of Texas … would Briles leave all of that for the Redskins?
I hope we don't find out. Stay away, Daniel Snyder. Hey, look over there — a shiny new candidate! His name is Jon Gruden, and we've seen him on ESPN. Google him, Snyder. See for yourself.
Gregg Doyel is a columnist for CBSSports.com. He covered the ACC for the Charlotte Observer, the Marlins for the Miami Herald, and Brooksville (Fla.) Hernando for the Tampa Tribune. More importantly, he is 4-0 as an amateur boxer, with three knockouts. Follow
Gregg Doyel
on Twitter.

Art – Google News